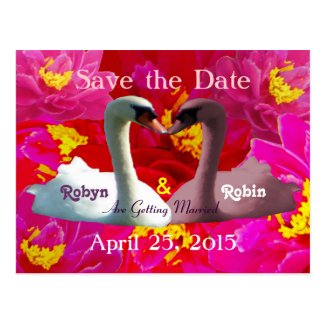 Kissing White & Pink Swans Save the Date Postcard
by
deluxephotos
Make your own
custom photo postcards
on zazzle.
This postcard front side features words "Save the Date" with a kissing White and Pink swan in a colorful background of red, purple and pink flowers enhancing yellow in the middle. The card captures the couples names with writing Are Getting Married and the special date. The back side has a single flower with words "Hope You'll Share Our Special Day with Us" formal invitation to follow including return address and deliver to. Easy to personalize with names and date. Buy as is or tweak it to make it your own. Be Smart Save Money Shop Online on our
Deluxephotos
Zazzle store.
Deluxephotosphotography.com
-Thank you for looking.
-->