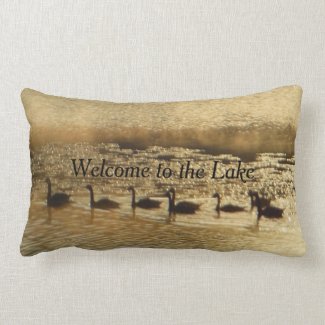 Welcome to the Lake Come Back Again Nautical Decor
by
deluxephotos
Check out other Eight geese Pillows at
zazzle.com
This pillow features eight geese on a lake where the sunrise is just coming up enhancing a golden glare on the water that darkens the geese. Front side says "Welcome to the Lake" the Back side says "Come Back Again". Buy this pillow as is or tweak it to make it your own. Great add for anyone who loves and appreciates nautical decor. Be Smart - Save Money - Shop Online. Contact me if you would like this photo and/or any other photos on a different item. Stop by again - store is growing (restocked daily).
Deluxephotos Photography
quote "strike a pose + capture a moment = priceless".